Digital marketing has been a way for brands and companies to reach their users or customers as long as the internet has been around. Let's take a closer look at the people, industries and entities which are using digital marketing in 2022.
Who uses Digital Marketing in 2022
The trend of people using more smartphones and people having easy access to the internet has made a huge difference in the digital marketing industry. The number of people who use digital marketing has increased tenfold and it is not going to stop soon.
Global Industry Analysts Inc., (GIA) conducted research in which they found that the global digital advertising and marketing market was estimated at $350 billion in 2020. Also, their projection for 2026 was that this will reach to is projected to reach $786.2 billion.
So let's take a deep look at the industries or organizations that are using digital marketing (both organic and paid).
Digital marketing for Selling Services
Companies that are selling services use digital marketing to promote their services and business to the people who need their services.
For example, A termite-proofing company will use digital marketing to show their business on search engines, social media platforms and any other places on the internet. Survey research by IBIS World showed that 30.8% of businesses conduct their activities online.
Multiple types of digital marketing strategies are used for getting users to buy the services. Facebook ads, SEO, Google ads, Youtube Marketing are some of the examples that people use.
Local SEO is one of the most growing method to reach customers online these days. A lot of business especially small ones use Google My Business to reach a lot of customers who either live near their area or are visiting it.
You can see if I type Flower shops in New York what shows in search:
A lot of people now don't want to go and explore the different companies and would love to see the reviews and services of a business on google maps and make a decision.
Digital Marketing for Selling Products
Anyone who is selling products online, whether they are a brand, an eCommerce store that is a reseller or a multivendor company, all use digital marketing to reach customers that are buying products online.
The amount of people who buy products is increasing day by day. After Covid hit the world there was a huge increase in online buyers. Statistics by Statista show that 1.66 billion people shop online each year. KMPG conducted another research which stated that generation X shops online more than baby boomers and millennials.
For eCommerce you need to have a distinct website or a unique CMS (content management system) if you want to take the full advantage of your online store. Woocommerce is the biggest platform for making an e-commerce platform to sell products. Some other one's are listed below:
Biggest platforms for making an online store:
Woocommerce
Shopify
WIX
Magento
Open Cart
CS Cart
After making a store people need to spread the word and make it possible for users to find in online. For that people use digital marketing, both organic or paid.
Facebook and Google also has market places where users can add their products and easily advertise it for the users.
Digital Marketing for sharing News
Some people would not believe it but a lot of news organizations and news outlets use digital marketing to promote their content and news around the world.
Also, news organizations have started paying more attention to different digital marketing techniques to have more subscriptions and more users associated with their online platforms (Youtube channels and websites).
I have collected some data about how much paid traffic news channels to get from search traffic and how many keywords they have promoted on search traffic. You can see the data in the table below.
Number of Paid Traffic on News websites
| | | |
| --- | --- | --- |
| News Channel | Paid Search Traffic | Paid Search Keywords |
| washingtonpost.com | 271000+ | 732 |
| npr.org | 136900+ | 238 |
| bbc.com | 148000+ | 542 |
| nytimes.com | 539000+ | 4900 |
This data was collected by using SEO Tool Semrush
This does not include all the organic methods they use for digital marketing.
Digital Marketing used by Blogs (Professional, Non-professional)
There are millions of blogs on internet both professional and non professional where people share their stories and blogs, or talk about their knowledge and professional experience. Some also use these blogs to talk about social issues and share their opinions.
Some professional blogs include, company blogs, blogs where people share technical skills and methods for different technical ideas.
You can also see how to blogs, where people are teaching different skills or tips to people. Some are writing top lists blogs like "10 Reasons Why You Should Start a Blog In 2021".
These blogs use organic ways to do digital marketing mostly which includes, doing search engine optimization, social media marketing and sometimes, organic email marketing too.
But you would be amazed that a lot of these blogs also use paid digital marketing methods to grow their blogs, because paid marketing is always an easy way to get visitors to your website and blogs in the start. Some use it for getting more reach on facebook and some (TechCrunch) also use google search ads to get more users on their website.
Awearness Campaigns by NGOs & Other Organizations
Digital marketing is not only used for making money or selling something, but sometimes it can be used for a cause that you are interested in. A lot of NGOs and Government organizations use digital marketing to spread the awareness among communities that might not get their message otherwise.
2021 Nonprofit Advertising Benchmark Study was conducted by Whole Whale and Cuase IQ. They found in the study that 60% of the non profit organizations spend on paid ads.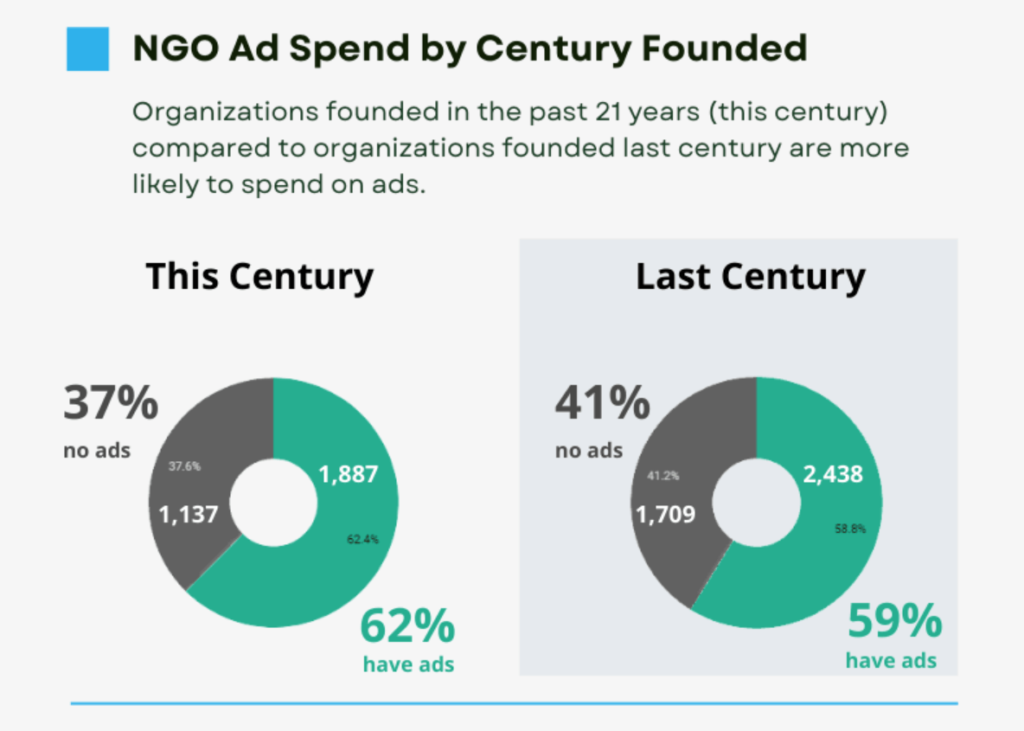 Although there are a lot of other industries that use digital marketing to benefit their business and growth, but I have listed the most important ones above.
Tabraiz Bukhari is a Digital Marketing Expert & Psychologist. He has experience in different areas of digital marketing from SEO and Google Adwords to Social Media Marketing and Ecommerce Management. He writes about his expertise and knowledge in digital marketing and sometimes about Psychology related topics. Currently, he is doing a job as an SEO Specialist/Team Leader at NewEraOS.