Yes, because you should not put all the eggs in one basket and a website can help you reach millions of search traffic you are missing.
Do I really need a website for my business? Or my social media profiles are enough. This is a question everyone with a business have since social media profiles have become more than just places to socialize with people online.
Social media companies like Facebook, Instagram, and Twitter are now providing advertising opportunities and high traffic value for businesses. There are many businesses that only rely on social media marketing and have a lot of leads and sales for their businesses.
Statistics from research by Buffer in 2019 showed that 73% of marketers believe that using social media marketing for their businesses has been "somewhat effective" or "very effective" for them (Buffer, 2019).
Facebook also reports that it has a reach of 2.14 Billion users for the advertisement, and an average Facebook user clicks 12 ads per month.
The people who think that they do not need a website for their business and can only rely on social media platforms often use the statistics that I have mentioned above.
Some also say "Why do I have to spend lots of money on making a website, writing content on it, and do hire a search engine optimizer when I am getting all the clients from Social Media Platforms?"
Well, let me tell you why you will definitely need a website for your business and why you should not just rely on social media platforms.
First Reason: Can Reach A Lot More People With Website
First, let's look at the traffic comparison between social media platforms and Google.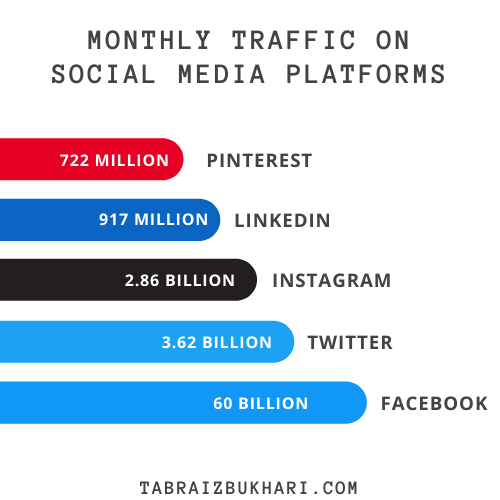 LinkedIn – 917 million visitors/month
Facebook – 60 billion visitors/month
Twitter – 3.62 billion visitors/month
Pinterest – 722 million visitors/month
Instagram – 2.86 billion visitors/month
If we combine all the visitors of these platforms it will be 68 billion visitors a month from all these platforms.
Now, how many visitors does one search engine (Although it is the most used search engine) receives in one month?
Google receives 2 Trillion visitors in a year which means that nearly 166 billion users visit google search each month. 2.5 times more than 5 big social media platforms combined.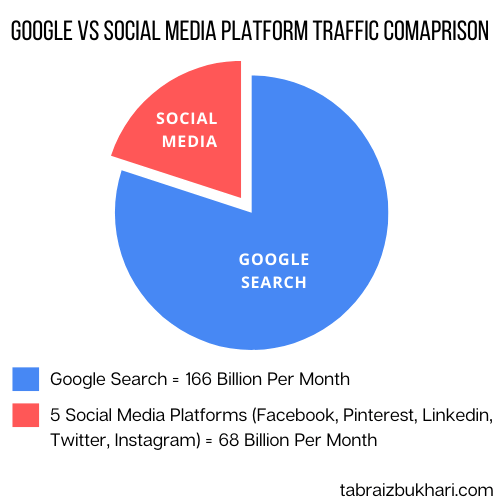 The most effective way to reach these millions of visitors that are searching on google is to create a website. If you have a website that is easy to access and has great content on it, you will start to reach thousands of customers for your businesses.
Second Reason: Users From Search Engine Have Buying Intent
A report by Econsultancy found that 61% of consumers before making a purchase will use the search engines to help them make the decision. So if you want to reach people who are coming with an intent to buy the products or services you need a website that ranks in Google or other search engines.
When people are searching for a business they are more likely to search on search engines than searching on social media platforms. Still, social media has the benefit of peer recommendation if people are sharing or liking your services and posts.
Third Reason: Website Provides You More Data To Work On
When your customers make a purchase on your social media page or contact you from the page. There are not many details that you can get about the behavior of the user. While if you have a website and you are using analytics and webmaster tools, you can get a detailed analysis of the behavior of your users.
You can improve your strategies and make the website more attractive and accessible to increase the conversion rate. Also with the help of a webmaster tool, you can know what people are searching for when coming to your website, and that way you can match the intent of the users that you are missing.
Fourth Reason: Website Offers Credibility To Your Business
Having a website provides you with credibility. People may not always feel that you are a fake business if you don't have a website. But still, you don't want to risk losing the customers who do think like that.
Creating effective "About" and "Contact" pages can earn you many points for credibility. On the other hand, if you want to have credibility on social media you need to have a blue checkmark which is extremely hard to get. There are many guides on the internet about getting your business page verified on Facebook but even if you know the process it is still very hard and time taking to do.
Fifth Reason: Ultimate Freedom For Customization
The room for customization on social media platforms is limited and you cannot get creative with the design. On the other hand, if you have a website you can design and customize it whatever way you want.
You can beat your competition by creating a well-designed and more accessible website than your competitors. You can create accelerated mobile pages for your website or use a responsive design to get a better response from mobile users.
Conclusion
In the end, I would like to say that this article is not a dig at people who are using social media as their marketing and business outlet. This article is for the people who think that they don't need a website and all the people in the world can reach them on social media because everyone has a social media account.
My advice will be to use both social media platforms and websites to market your business. You can convert your website visitors into likes and follows on social media and social media signals will help your search engine optimization efforts.
Tabraiz Bukhari is a Digital Marketing Expert & Psychologist. He has experience in different areas of digital marketing from SEO and Google Adwords to Social Media Marketing and Ecommerce Management. He writes about his expertise and knowledge in digital marketing and sometimes about Psychology related topics. Currently, he is doing a job as an SEO Specialist/Team Leader at NewEraOS.